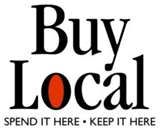 As a new and small business, Unhinged is constantly being invited to take part in events throughout Salt Lake City. This month, we are taking part in a promotion for small businesses called Small Business Saturday.
This event is relatively new to the valley and is day for celebrating small businesses in Salt Lake City and all across the country. This year will be the 2nd annual day of celebration for small businesses and it is happening on November 26th.
This is a great time of year to be involved in a promotion like this because it is the most popular time to get out and shop, so there's no reason to not come into Unhinged and support you local small businesses.
The effort will help stimulate the local economy and help small businesses in these financially difficult times. It is an awesome way to help small business owners, and keep money spent this holiday season within your own local economy.
Making purchases to small businesses is a great way to make it through this poor economic holiday season! Because buying local helps lower prices within your personal comunity.
So stop by Unhinged in Salt Lake City on November 26th and start your holiday shopping the right way!